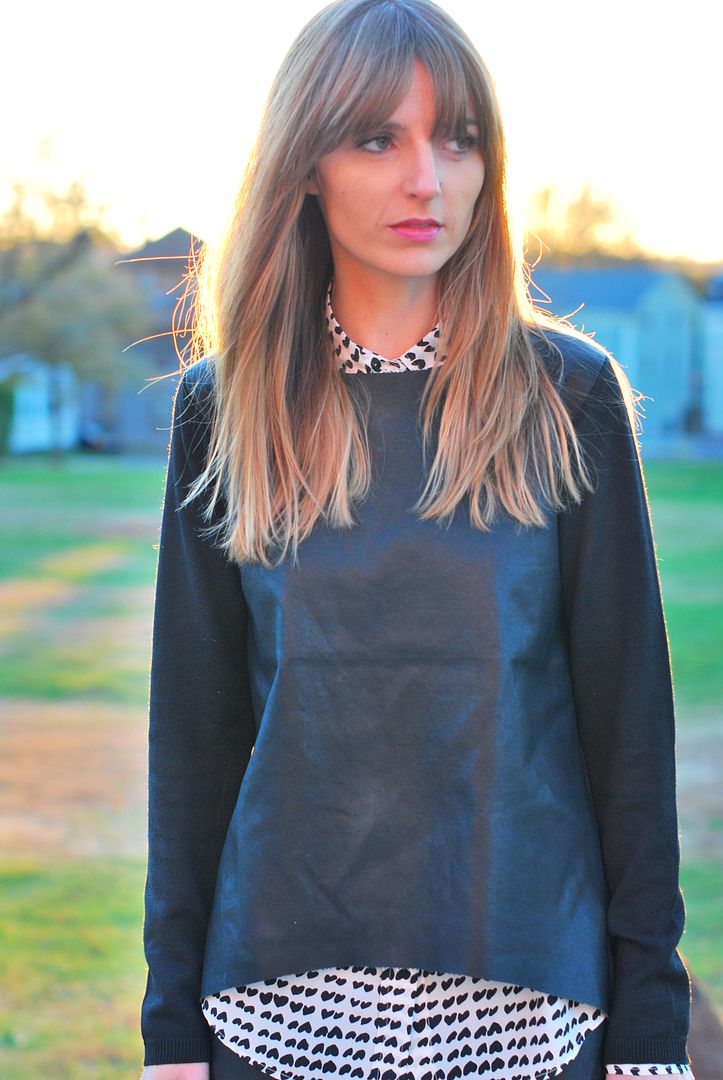 Since the day I got this leather sweater from Lulus.com I've been dying to wear it with this faux leather skirt that I styled a few weeks ago. It's kind of amazing how well they actually go together considering I got them separately. The heart print silk blouse adds a girly feel to an otherwise modern-edgy outfit. If you're wondering what Nora is doing in all of these pictures, she's looking for squirrels, her favorite hobby. 
On another note, operation bang grow out is still going strong but they are definitely getting to that weird length where I almost can't see but they're not long enough to pin back without looking like a weirdo. My Aunt swears by Caviar Clinical Root Stimulator  and shampoo for hair growth so I might give it a shot to see if I can speed up the process. I've got 9 months until Emily's wedding so as long as I can avoid caving into trimming them I should have plenty of time. I'm starting to get excited for this weekend. Craig and I are going to the Patriots vs Broncos game. It is supposed to be absolutely FRIGID so I'm trying to figure out the warmest possible outfit I can wear. I think there will be lots of fur involved. Don't forget to enter my sunglasses giveaway! 
Disclosure: if you buy something through my links, I may earn an affiliate commission. Thank you for your support of this blog.