I honestly didn't anticipate how long it would take me to write this post. It wasn't until I started putting it together that I realized how much we actually did in our kitchen renovation (see the before here). While we didn't change the layout we made a lot of improvements with the help of Lowe's, and it feels like a whole new space. The entire process took about a month and a half, which includes some delays waiting for items to arrive (the range hood and farmhouse sink). Every morning when I wake up and make a cup of coffee I think to myself, I can't believe this is my kitchen. We spent so much time researching, finding inspiration, shopping for paint, hardware and everything else we replaced, and the kitchen we have now is even better than I imagined. I decided to break the post out by each area so you can scroll down to see what we changed and how we did it.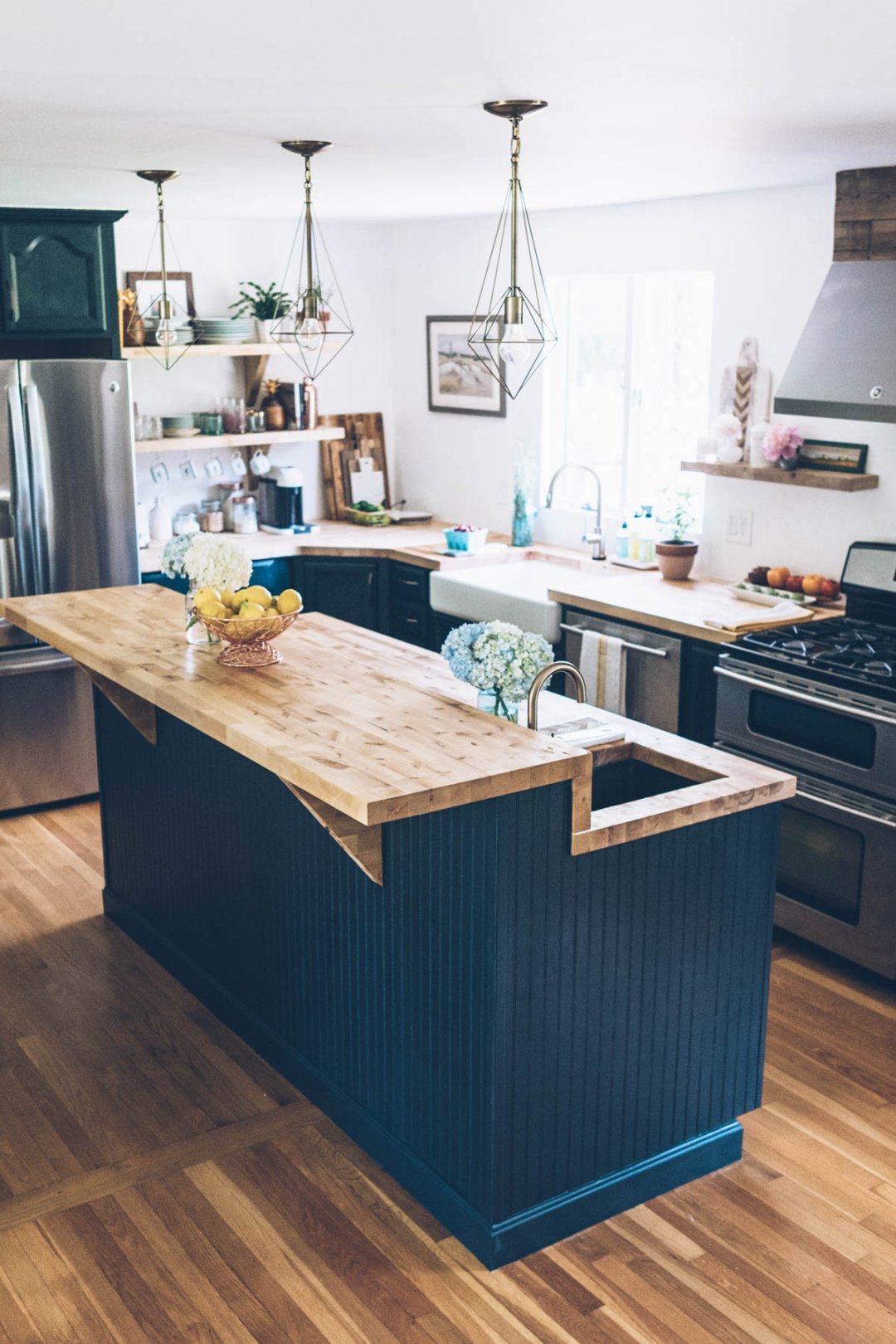 The Island
Adding a few fairly simple touches to the island we were able to give it a custom look and feel. Craig added natural wood beadboard panels and trim pieces to the corners and baseboard. The existing island had a cheap and flimsy look so adding the panels make it more sturdy and also add the country kitchen feel we wanted. We painted the panels and trim with Valspar Chalky paint making our own color mixing half Boot Black and half Ann's Embroidery. We changed out the granite and replaced it with birch butcher block counter tops (sealed with satin water based poly). We kept the existing overhang and Craig used some extra pieces to create supports. We haven't found barstools yet but we plan on using it as a place to eat once we do. We also replaced the old bar sink faucet with a new one from Delta in champagne bronze. The lighting really transformed the space and pulled it all together and they are SO affordable ($60!). I think we get more compliments on the pendant lights than anything else.
Range Hood
I have to give Craig credit for the range hood. Initially there was a microwave above the oven and I didn't want to change it because I was afraid it would be too much work and I wasn't sold on the look but I'm SO happy I let him talk me into it. It looks so much better with the range hood and the custom duct cover Craig made out of some palette wood we had from one of our deliveries. It also works much better than the old microwave venting. Last minute we added some additional floating shelves with some leftover pieces from the countertops. We lucked out and found these aged brass pulls that were the same size as the old cabinet drawer pulls. I highly recommend doing that when replacing hardware because it saves a ton of time. Otherwise we would have had to fill in the old holes and drill new ones in all the drawers. This way we just had to paint the cabinets and replace the hardware. We used a brush on water based poly to finish the cabinets. Typically with chalk paint you would use wax, but we tried several and none worked well with this particular brand. The water based poly went on easily and is a nice satin finish so the cabinets look slightly glossy. It also makes them easier to clean.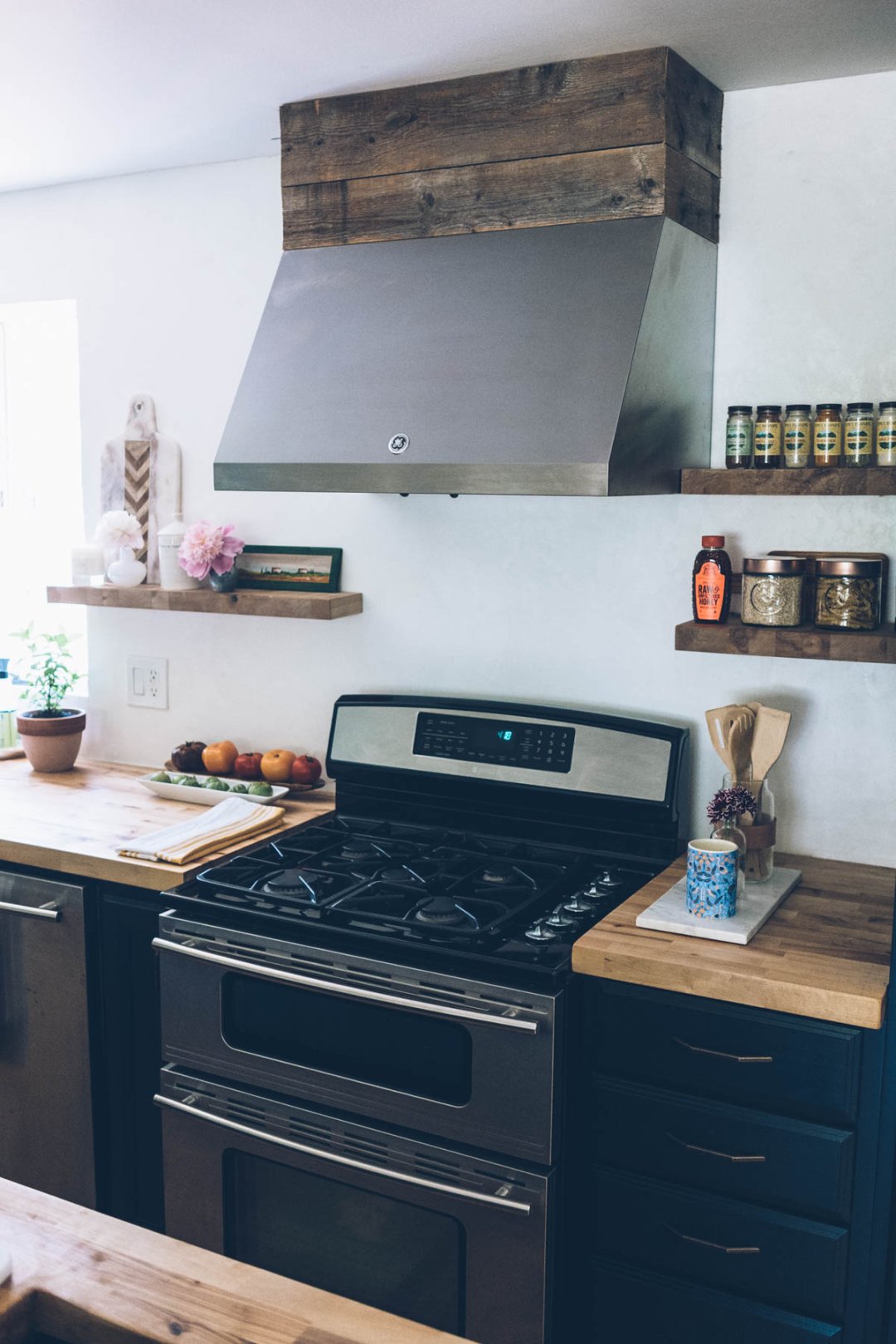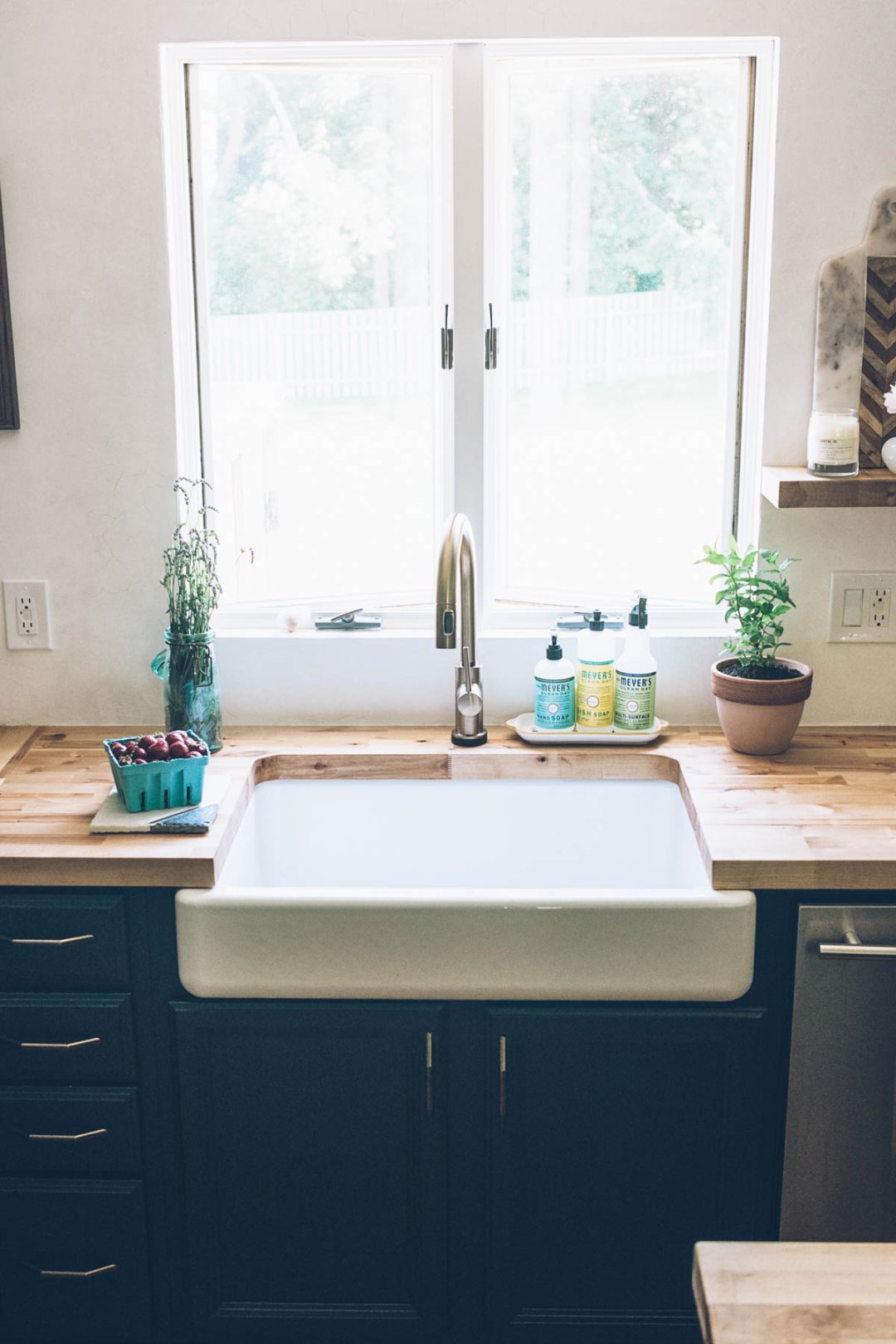 Farmhouse Sink & Brass Faucet
Not to play favorites but… The one thing I really, really wanted in our new kitchen was a farmhouse sink. It just has the perfect look and feel for the space. The tricky thing about farmhouse sinks is that they are typically huge and very deep. Luckily I was able to find this short apron style at Lowe's so we didn't have to make any changes to the existing cabinets. Paired with this Delta faucet it's just so pretty I could stare at it all day. Make sure to keep this in mind if you're renovating your kitchen. If you're not replacing your cabinets measure to ensure the new sink will fit into the existing space. Trying to cut existing cabinets for a bigger sink is difficult and can end up being really expensive.
Open Shelving
Ripping out all of the upper cabinets made the kitchen look brighter and feel bigger. It also eliminated some storage so we decided to add open shelving as a solution. Using the wood from the counter tops Craig cut 1 foot deep shelves and made brackets from the same material. It's another one of my favorite elements in the kitchen. Make sure when you're installing shelving you screw them into the studs. It may sound obvious but it's really important. When you're renovating it's something you really have to pay attention to because it will dictate where you can hang and install certain things. Fill your open shelving with a mix of things like recipe books, plates, glasses, and decor to make it feel more like home and less like a store display. Another thing to keep in mind when using open shelving is placement. Don't put your glasses and dishes next to the stove or they'll inevitably get greasy and dusty a lot quicker.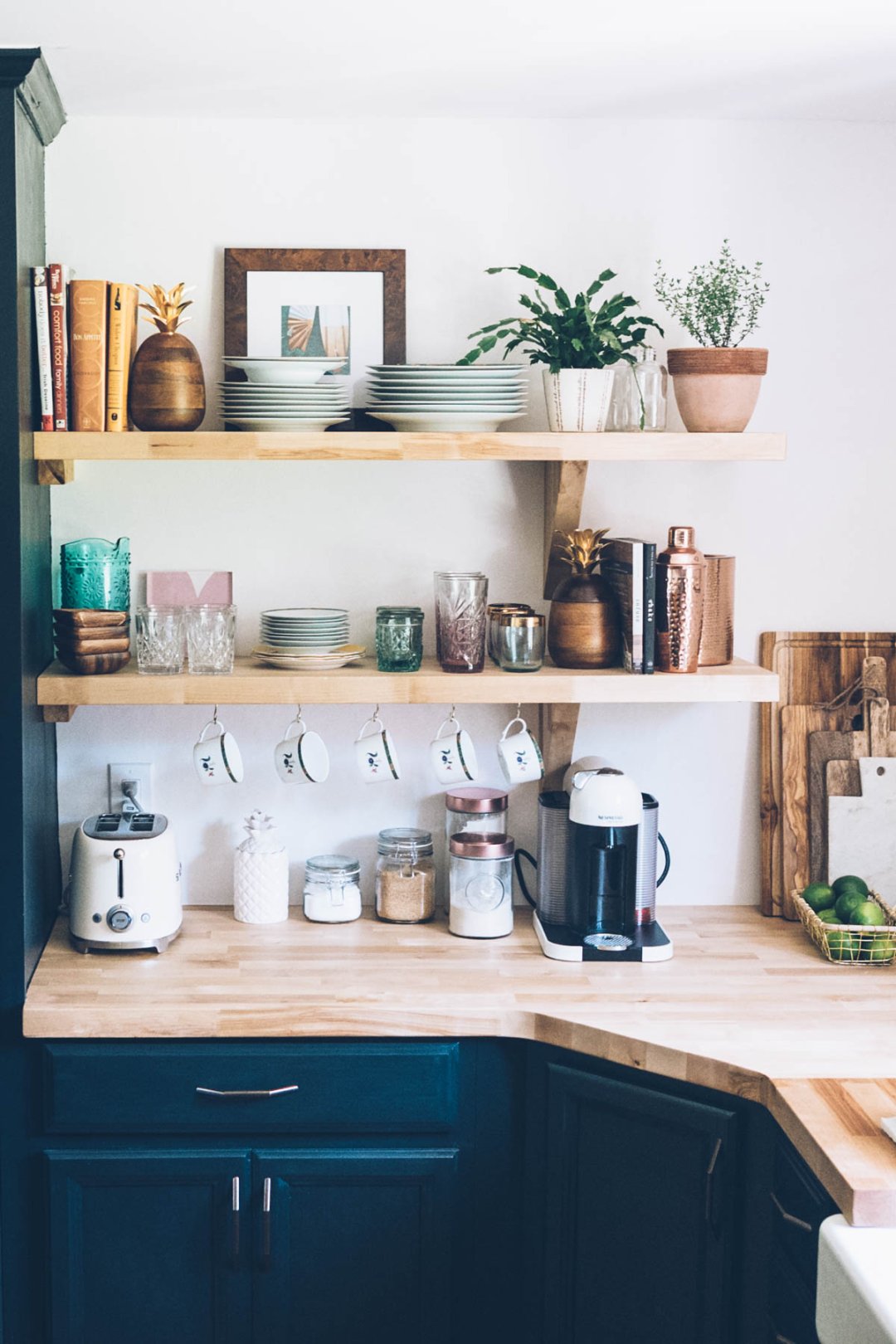 It's kind of crazy to think that in a little under two months we were able to completely transform an old, dark and dated kitchen to this beautiful light and airy space that's a combination of traditional New England and country cottage. We had so much fun picking out the different elements and seeing it all come together from the hardware to the sink to the countertops. I can't thank Lowe's enough for providing us with the materials to renovate our kitchen. It's such an inviting and happy space. If you haven't seen it, make sure to check out our video here which also includes a bit of the renovation process. Up next, the bathroom, stay tuned! I tried to link to everything pictured in this post but if you see something that isn't just send me a note.
Thank you so much to Lowe's for providing us with all of the product to renovate our kitchen. As always all opinions expressed are my own.