HIS AND HERS: CORDUROYS
By Jess
16 Dec 2013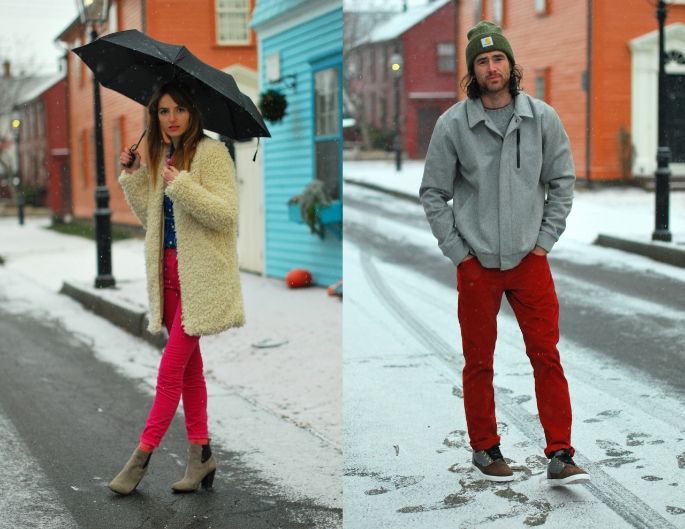 Cheers! I am so excited to share Prosecco and Plaid 2.0. I couldn't be happier with my new fresh design (read about my re-branding decision here). I hope all of you love it as much as I do. I'm not sure how I pulled it off, but somehow I convinced Craig to let me take his picture the other night before we went out to dinner for his birthday. I have been begging him to let me shoot his outfits because he has great style but he absolutely hates getting his picture taken, as evidenced by his face in these pictures, haha. He was such a good sport though, and it was a bit of a happy accident that we were both wearing cords, so I knew it would be perfect for my first "his and hers" post on the newly designed Prosecco and Plaid! Craig has great effortless style and an enviable wardrobe. He keeps it simple and classic but never too trendy. If he wasn't 6'3″ I'd be wearing his clothes all the time but unfortunately I'm limited to sharing accessories as evidenced with this hat which I wore a few weeks ago here and here. There have been a few occasions where one of us has to change because we are practically twinning…awkward! I think Craig did pretty well for his first outfit post, what do you guys think? I'd love to see more of his style on here, hopefully it doesn't take another year for me to convince him! 
It's the last day of the $50 gift card giveaway so make sure you enter here!
Disclosure: if you buy something through the links on this blog, we may earn an affiliate commission. We only feature products we would personally recommend. Thank you for your support.